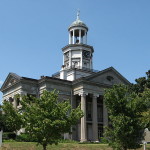 The city of Vicksburg is a smaller city on the western border of Mississippi that sits along the Mississippi River. Though the area had been inhabited by Native Americans for centuries, it was first settled by Europeans in 1719 as a fort in the wild Mississippi frontier. It began to grow in population after becoming a part of the United States and the city proved to be a crucial trading post along the Mississippi River during the years before the Civil War. During the Civil War Vicksburg was a major lifeline for the Confederacy until its capture in July 1863; the fall of Vicksburg coincided with the Confederate loss at the Battle of Gettysburg, and the two battles are considered to be the turning point in the war. Today Vicksburg's ties to the Mississippi River are still quite strong, and trade up and down the river continues to be a vital part of the city's economy.
In terms of overland transportation Vicksburg is not the most popular of auto transport locations, though plenty of auto transporters will run routes through the city as it sits right along I-20, a major east-west interstate that services much of the southern United States and runs right through the heart of Vicksburg, offering shippers a quick stop and customers quicker pickup times in and out of Vicksburg. You may see slightly higher prices when shipping out of Vicksburg, particularly if you're going to areas north of the city, as there are no major interstates that run north-south through Vicksburg. Besides, the city itself is surrounded by some pretty rural territory; you can read more about it by visiting Vicksburg's official website.
If you're interested in transporting a vehicle to or from the city of Vicksburg, you can fill out our free online quote request form and get in contact with one of our stellar auto transport representatives. They know all there is to know about car transport services from and to anywhere in the U.S., and they can give you an accurate quote and e-mail you with it within the hour. If you're looking for something a bit quicker, feel free to call our toll-free number at 888-333-6343 to speak to one of our live representatives. They can take your information right over the phone to get you an accurate and reliable auto shipping quote. So however you decide to contact us, doing so will likely save you a lot of time and hassle on all your vehicle shipping needs.