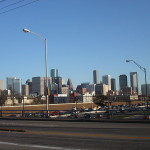 The city of Houston is the fourth-largest in the entire U.S. with a population of 2.1 million; not surprisingly, it's also the largest city in the state of Texas. It sits at the center of the Greater Houston Metropolitan Area, known as Greater Houston, which is home to over 6.1 million residents. Houston is a primary transportation and logistics hub in southeastern Texas, and is only a few miles from the port city of Galveston. This makes it a popular shipping center for overseas transportation, and there are even some international car shipping companies that operate international cargo ships designed with cars in mind. As Houston is one of the most important cities not just in Texas but in the southern U.S., auto transporters will routinely go there to pickup and deliver vehicles, as so many customers are moving in and out of the area as well.
I-10 is the main east-west interstate that runs through Houston and connects to a variety of smaller interstates in the Houston area which essentially make up a beltway for motorists to get around the Greater Houston area. What also helps is the fact that Houston sits along I-45, a smaller north-south interstate that runs from Houston to Dallas. Dallas sits just north of Houston and I-45 gives auto shippers access not just to the Dallas metro area but the entire transportation network around the Metroplex, including a major east-west interstate in I-20 and access to other major cities around it. Ultimately Houston is one of the cheapest cities to ship from or to in Texas and pickup in and around the city should not take very long, as there are generally always a few auto shippers in the area at any given time. Read more about Houston here.
If you're interested in transporting a vehicle to or from the city of Houston, you can fill out our free online quote request form and get in contact with one of our stellar auto transport representatives. They know all there is to know about car transport services from and to anywhere in the U.S., and they can give you an accurate quote and e-mail you with it within the hour. If you're looking for something a bit quicker, feel free to call our toll-free number at 888-333-6343 to speak to one of our live representatives. They can take your information right over the phone to get you an accurate and reliable auto shipping quote. So however you decide to contact us, doing so will likely save you a lot of time and hassle on all your vehicle shipping needs.