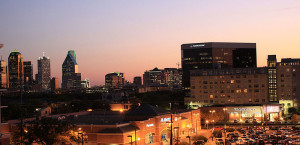 The city of Dallas is the third-largest city in the state of Texas and the ninth-largest city in the United States. Home to over 1.24 million residents, Dallas is an alpha world city and a major center for financing, banking, trade, telecommunications, computer technology, energy and healthcare. Founded in 1841, the city was incorporated in 1856 and quickly gained prominence thanks to several major rail lines running through it. The railroads brought more residents, helping Dallas grow, and with the discovery of oil in the area Dallas began to really boom. During the 1950's the Interstate Highway System's layout made Dallas a major focal point for transportation and logistics, with no less than four major interstates connecting with each other in Dallas, and even today Dallas is feeling its resounding influence. These interstate systems made the Auto transport more smooth for the area. Learn more about the city of Dallas here.
The auto transport industry runs along the Interstate Highway System, which conveniently made Dallas one of the biggest and most important cities in the country. I-20, I-30, I-35E and I-45 all connect in the heart of the downtown area and the entire city is encircled by I-635, a closed beltway that allows access to some of the most heavily populated areas in the city. For Auto Transport on the whole Dallas is one of the most popular places not just in the state of Texas but in the entire country for auto shippers to run routes into and out of and it is for this reason that many areas nearby are also popular shipping areas. Texas sees some of the most auto transport traffic of any state – it helps that three of the ten largest cities in the country are all located in Texas. For Auto Transport you will likely see some of the lowest prices for shipments into and out of Dallas as well as some of the highest carrier availability rates because of how popular it is in the car shipping industry.
If you're interested in Auto Transport to or from the city of Dallas, you can fill out our free online quote request form and get in contact with one of our stellar auto transport representatives. They know all there is to know about car transport services from and to anywhere in the U.S., and they can give you an accurate quote and e-mail you with it within the hour. If you're looking for something a bit quicker, feel free to call our toll-free number at 888-333-6343 to speak to one of our live Auto Transport representatives. They can take your information right over the phone to get you an accurate and reliable auto shipping quote. So however you decide to contact us, doing so will likely save you a lot of time and hassle on all your Auto Transport needs.