_________________________
Do you own or maintain a fleet of vehicles?
If you own or maintain a fleet of vehicles and are looking for car transport services for them, we are here to help. Transporting an entire fleet of vehicles – or even just a small portion of a fleet – can be a difficult and costly venture. Many companies that own or maintain fleets of vehicles will need transportation services for them at some point. Whether you just ordered some vehicles and are upgrading your fleet or you opened a new store in another state and you don't have the capital for an entirely new fleet far away, shipping all or some of your fleet is something that most people will have to do at one point or another. And that's why we're here – to help you with all your fleet transport needs.
How we do it.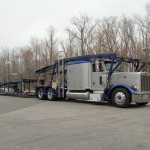 We work with the best carriers out there on the roads today, and many of our carriers service nationwide and regional-based routes to help our customers get their fleet vehicles from anywhere, to anywhere in the United States. If you are shipping less than ten vehicles we will be able to find a single carrier to help you transport all of them at once. However, this may take some time – most carriers run half-full most of the time, to make sure they are continually in work and have some cash flowing in on a regular basis, but there are times when there are empty carriers looking to pickup a lot of cars at once. If you are shipping more than ten vehicles, more than one carrier will be required – this will take a bit more work and a lot more time to complete. It's all about the logistics: how many carriers are able to handle such a large load is a question that can only be answered once we start searching for a carrier for you. Can we do it? Yes. But it will take time and patience.
Get your free fleet car transport quote today.
If you are interested in getting a free car transport quote to ship your vehicle to or from anywhere in the U.S., Webster Hauling can help you with it. We work with the best carriers in the car transport industry to get your vehicle moved from wherever you need it picked up from to wherever you need it shipped to. You can call us at 888-333-6343 for a free auto transport quote, or you can take a minute to fill out our free online quote request form to the right and get a quote emailed to you within the next hour. We here at Webster Hauling are proud to help you with all your car transport or vehicle shipping needs, so call or fill out our form today to get the best service from one of the best companies in the industry.