_________________________
A Brief History of Georgia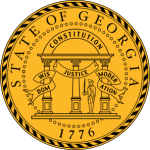 The state of Georgia was founded as the last of the thirteen original British colonies in 1732, and rebelled along with the rest of the colonies during the American Revolution. The state also seceded from the Union in 1861 along with the rest of the states that would make up the Confederate States of America – it was also the last to be restored into the Union after the Confederacy lost the Civil War. The state grew slowly after the end of the Civil War, especially Atlanta, which was virtually burned to the ground in 1864. Atlanta, the state capital, was and continues to be a prominent rail and transportation hub in the state and surrounding region, and it played a significant role in the survival (and subsequent downfall) of the Confederacy during the American Civil War.
What to Expect When Shipping to or from Georgia
Transporting a vehicle to or from Georgia is generally easy to arrange and also cheap, as far as car transport prices go. It helps that there are so many interstates running through so many different metro areas. Cities such as Macon, Savannah and Valdosta are common auto transport locations, and since they lie along heavily-traveled interstate highways carriers have a much easier time transporting vehicles to or from them. I-95, which runs near Savannah, is one of the most popular auto transport corridors on the east coast, as it runs all the way from Florida to Maine. Atlanta is by far the most popular auto transport location, however, and is a major stop along I-75, one of the most popular north-south interstates that services the western Appalachian ranges – it runs clear into Canada by way of Michigan. Usually transporting to any major city in Georgia will be a good deal by auto transport standards.
How to get a Free Car Transport Georgia Quote
If you are interested in getting a free car transport quote to ship your vehicle to or from Georgia, Webster Hauling can help you with it. We work with the best carriers in the car transport industry to get your vehicle moved from wherever you need it picked up from to wherever you need it shipped to. You can call us at 888-333-6343 for a free car transport quote, or you can take a minute to fill out our free online quote request form to the right and get a quote emailed to you within the next hour. We here at Webster Hauling are proud to help you with all your car transport or vehicle shipping needs, so call or fill out our form today to get the best service from one of the best companies in the industry.
 Please visit our Frequently Asked Questions Page for more information