_________________________
What constitutes a travel trailer?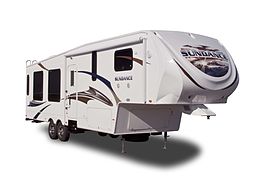 We differentiate between recreational vehicles and travel trailers when it comes to us moving them. Travel trailers are any type of recreational trailer that can be towed by a large pickup truck or van (refer to the picture to the left). These are non-motorized trailers designed for comfort and maneuverability; unlike recreational vehicles, they are not connected to a cab and chassis and must be towed. Travel trailers range in size, from a dozen feet or so to upwards of 30 feet or better, and with all the different sized travel trailers out there finding accurate and competitive quotes can be a hassle. Make sure to have the dimensions of your travel trailer in addition to the year, make and model, so that we can accurately quote your travel trailer transport and get you the best transport experience we can.
How are travel trailers typically shipped?
Travel trailer transport usually happens in one of two ways – either we can hitch it to the back of a large commercial pickup truck, which can take it from wherever you're at to wherever it is you need to go to, or we can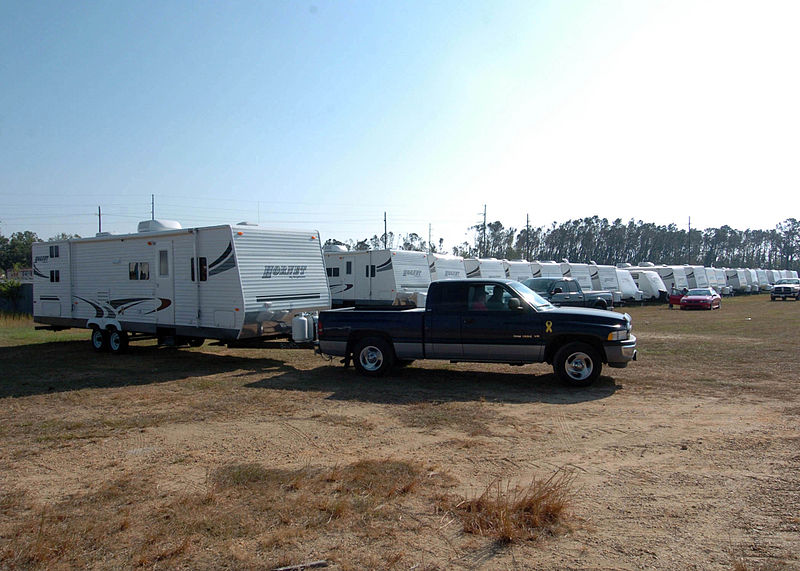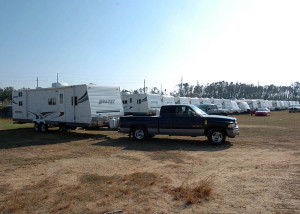 load it onto the back of a flatbed auto transport carrier and have them ship it that way. Most of the time this depends on what exactly you're looking for – hitching it to the back of a large commercial pickup truck (akin to a Ford F-250 or something like that) will put wear and tear on the tires of your travel trailer, though that's usually it. Shipping on a flatbed carrier will probably be more expensive, on the whole, but your tires' tread will not be worn down by such a shipment. You should call into our office at 888-333-6343 for more information about transporting travel trailers if you are interested.
Get a free travel trailer transport quote today.
If you are interested in getting a free travel trailer transport quote to ship your vehicle to or from anywhere in the U.S., Webster Hauling can help you with it. We work with the best carriers in the car transport industry to get your vehicle moved from wherever you need it picked up from to wherever you need it shipped to. You can call us at 888-333-6343 for a free auto transport quote, or you can take a minute to fill out our free online quote request form to the right and get a quote emailed to you within the next hour. We here at Webster Hauling are proud to help you with all your car transport or vehicle shipping needs, so call or fill out our form today to get the best service from one of the best companies in the industry.