_________________________________________
What is an open car carrier?
An open car transport carrier is a type of auto transport truck that can haul anywhere from three to ten cars at a single time. Open ten-car carriers are considered the standard transportation truck in the industry and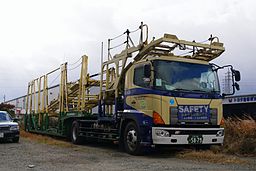 they are the type of carrier that we will look for unless you specify that you prefer something more like enclosed transportation. Open transport carries with it the lowest possible prices to move your car. Your vehicle will be exposed to the elements, especially rain and wind and errant road debris (like rocks kicked up from other motorists). They travel along the interstate highway system and prefer to pickup and deliver to areas that are close to a major interstate that they run their routes on. Most open carriers run specific routes through certain states, and with thousands of them on the road today finding a carrier for your specific shipment should not take more than a week at most.
How much does open car transport cost?
Open car transport carriers charge mainly based off of where you are transporting your vehicle from and to and what exactly you are shipping. Longer routes will typically cost more, on the whole, because carriers have to travel longer distances. Some areas may cost a bit more to get into or out of than others, mainly due to inclement weather conditions or geographical restrictions. Open transport is considered the standard method, and as such carries with it the lowest price of all the major types of transportation that you can find. The cost of open transport will increase with the size of your vehicle as well; for instance, a small sedan will cost the bare-bones amount; a full-size pickup truck with duly tires and an extended bed with a crew cab and a 4 inch lift is going to cost more because of its size.
How can I get an open car transport quote?
If you are interested in getting a free car transport quote to ship your vehicle to or from anywhere in the U.S., Webster Hauling can help you with it. We work with the best carriers in the car transport industry to get your vehicle moved from wherever you need it picked up from to wherever you need it shipped to. You can call us at 888-333-6343 for a free auto transport quote, or you can take a minute to fill out our free online quote request form to the right and get a quote emailed to you within the next hour. We here at Webster vare proud to help you with all your car transport or vehicle shipping needs, so call or fill out our form today to get the best service from one of the best companies in the industry.