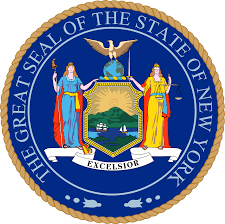 Transport to and from New York is relatively a good location for auto carriers in the East and West corridor. The location along the I-95, I-80 and  I-78  works great for the East to West and North to South route for traffic. However there are some locations off there routes that can be difficult. These are the things that our auto transport specialist knowledge can work with to assist and complete your auto transport smoothly and cost effectively for you.
_________________________
A Brief History of New York
The state of New York was first founded as a colony by the Dutch, who lost it to the British early in the 17th century. While under British control the city of New York grew into a large and influential center of commerce in the burgeoning American colonies, and also played a large part in the formation of the United States during and following the American Revolution in the late 18th century. The city is today a major cultural melting pot, which stems from its long-standing position as the main port of entry for immigrants coming to the United States. A third of the population in the U.S. can trace their roots back to immigrants that landed at New York City during the late 19th and early 20th centuries.
What to Expect when Shipping to or from New York
New York is the largest city in the United States, with a population of 8.3 million; however, its metropolitan area has 18 million residents living within it, almost matching the entire population of the state of New York. Shipping to New York City is usually the best way to go if you're looking to save some money on transporting to New York state, as many carriers will travel on one of the many interstates that passes through its metro area. However, the state itself is rather large, and transporting to other areas may be a bit more difficult, depending on where you're shipping to or from. For instance, carriers are more likely to run to cities such as Buffalo and Syracuse if the weather's warmer, as those cities are known for their winter weather and their isolation in the western parts of the state make it less enticing for carriers to run routes all the way out there. Upper New York State also falls victim to this as well; cities such as Plattsburgh aren't the most popular of areas for carriers to move to. As such, transport to or from the more remote parts of the state will typically be a bit more expensive than to or from New York City.
How to get a Free Car Transport New York Quote
If you are interested in getting a free car transport quote to ship your vehicle to or from New York, Webster Hauling can help you with it. We work with the best carriers in the car transport industry to get your vehicle moved from wherever you need it picked up from to wherever you need it shipped to. You can call us at 888-333-6343 for a free car transport quote, or you can take a minute to fill out our free online quote request form to the right and get a quote emailed to you within the next hour. We here at Webster Hauling are proud to help you with all your car transport or vehicle shipping needs, so call or fill out our form today to get the best service from one of the best companies in the industry.