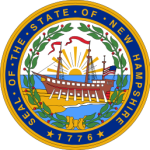 _________________________
Transport to and from New Hampshire is relatively a good location for auto carriers in the East and West corridor. The location along the I-93, and  I-91  works great for the East to West and North to South route for traffic. However there are some locations off there routes that can be difficult. These are the things that our auto transport specialist knowledge can work with to assist and complete your auto transport smoothly and cost effectively for you.
A Brief History of New Hampshire
The state of New Hampshire was actually the first state to break away from Great Britain in early 1776, and paved the way for the signing of the Declaration of Independence as well as the formation of the U.S. It was one of the thirteen original states to ratify both the Articles of Confederation and the Constitution – it was actually the ninth state to ratify the Constitution, which means that it was New Hampshire's ratification that put the Constitution into effect. The state has long been known for its many textile mills and reliance on manufacturing and machining, and this is a part of the state's economy that continues to this day. During the late 18th and 19th centuries, immigration – especially from Germany, Canada and Ireland – was a major factor in the population growth of the state. Today, New Hampshire is known best for its many ski resorts and vacation areas, as the state enjoys some of the most beautiful scenic areas in the country.
What to Expect when Shipping to or from New Hampshire
When you're transporting your vehicle to or from New Hampshire, chances are pretty good that a carrier will be willing and able to move all the way into New Hampshire. The problem with transporting cars to or from the state is its geographic location; as a New England state, it's prone to harsh winter weather and is populated by smaller towns and cities that only few people ship to and from, which doesn't give much incentive to carriers to include New Hampshire cities in their routes. When carriers do transport vehicles in or out of New Hampshire, they'll usually go by way of Boston, which is a straight shot down I-93. Concord is one of the largest cities in New Hampshire and is the area where I-93 splits into I-89 and I-91, which both run northwest into Vermont and run through various cities in New Hampshire. Regardless, however, New Hampshire is not one of the most auto-transport-friendly cities, and as such there are not as many carriers willing to transport in and out of New Hampshire as opposed to other states.
How to get a Free Car Transport New Hampshire Quote
If you are interested in getting a free car transport quote to ship your vehicle to or from New Hampshire, Webster Hauling can help you with it. We work with the best carriers in the car transport industry to get your vehicle moved from wherever you need it picked up from to wherever you need it shipped to. You can call us at 888-333-6343 for a free car transport quote, or you can take a minute to fill out our free online quote request form to the right and get a quote emailed to you within the next hour. We here at Webster Hauling are proud to help you with all your car transport or vehicle shipping needs, so call or fill out our form today to get the best service from one of the best companies in the industry.